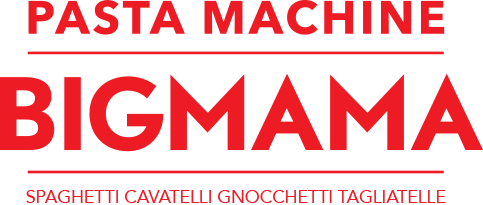 BIG MAMA carries genuine passion for homemade pasta to the table.
Spaghetti, tagliatelle, cavatelli and gnocchetti have never been so simple to prepare! Mouth-watering and appetizing dishes that bring together the Italian tradition of cooking with the love of eating healthy that distinguishes the Mediterranean diet, all to savour with your family and friends.
It is easy to assemble and disassemble
It is practical to clean: it requires neither chemical products nor a dishwasher
It prepares spaghetti, tagliatelle, gnocchetti, and cavatelli quickly
It is made with plastic materials certified for food use
Insert the machine's clamp onto a flat surface.
Fasten the screw on the lower part.
Insert the crank handle in the hole, blocking the cylinders and screw in clockwise.
TAGLIATELLE

SPAGHETTONI

SPAGHETTI

GNOCCHETTI

CAVATELLI
Once you have chosen and prepared the dough you prefer, cut pieces of pasta from the block of dough, flatten and roll with your fingers until you have obtained strips of the length you prefer that are 4 mm thick and 3 cm wide.
Place the strips of pasta in one of the five position and run it through while turning the crank.

We advise cleaning the machine before using it in order to remove any residue that could possibly shred your fresh pasta.
Do not wash the machine! All you need is a knife or toothpick to remove any pasta residue.
Always use a moist cloth to clean outer surfaces.
AFTER USING AND CLEANING THE MACHINE
Keep BIG MAMA at your fingertips!