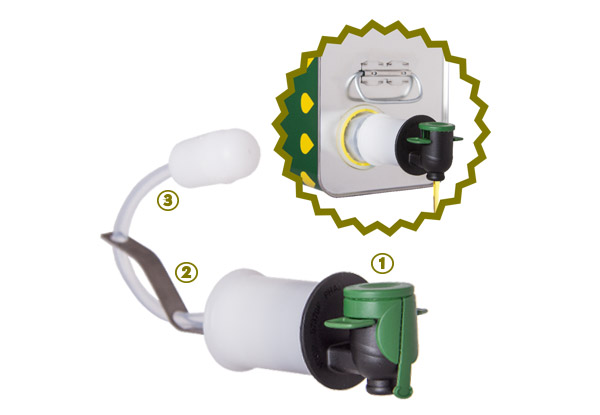 OLIVER
Easy to install and convenient to use.
The product that was missing is now avaiable to all.
OLIVER is the spigot with drip catcher from the MAMMAMIA line, created specifically to preserve the aroma and freshness of extra virgin olive oil. It is applied to the best oil tin containers, it preserves organoleptic properties by avoiding contact with air and it guarantees a regular outbound flow.
Dedicated to those who wish to savour a symbol of Italian tradition any time they please and conserve it for as long as possible.
– Made with certified plastic material most suited for the conservation of liquid food products
– Applicable to the best containers used for oil preservation
– Prevents contact with air while keeping all organoleptic properties of oil intact
– Guarantees a steady flow when poured
INSTRUCTIONS
– Remove the canister's stopper
– Insert Oliver on the side with the float and screw in tightly
– Remove the safety tab – Gently press side tabs upwards to pour oil
– Block pressure to halt the oil flow
TECHNICAL INFORMATION
(1) Drip catcher with safety tabs, made with natural POLYPROPYLENE 961 for food products. Outer diameter: 27.8 mm
(2) Stainless steel support frame to position float
(3) Silicon connecting tube