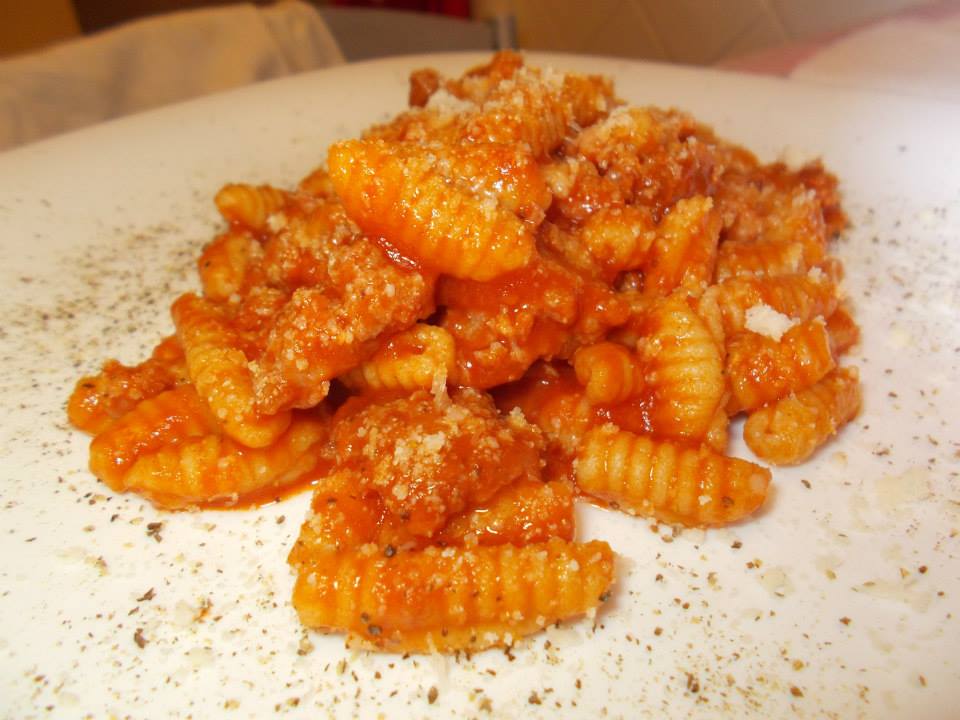 Ingredients:

Dough:
300 gr of flour
3 eggs
A pinch of saffron
Water
Salsa:
3 sausages 
500 ml of tomato puree
Olive oil, salt, pepper and chili pepper to taste
Onion to taste
1/2 glass of red wine
Parmesan cheese or Pecorino to taste
Preparation:
Form a mound of flour on your pastry board and break eggs into its centre. Use fingertips to blend eggs, flour and a pinch of saffron.
Knead quickly, flattening and rolling for about 10 minutes to obtain a smooth and elastic dough. Cover with a linen or cotton cloth and let set for about 30 minutes.
Then, split it into blocks and knead it until you have obtained strips of the length you prefer that are 4 mm thick and 3 cm wide. Place the strips of pasta between the two rollers and run it through while turning the crank.
Pour a drizzle of olive oil in a saucepan and brown the onion with a pinch of chili pepper.
Remove the skin from the sausages and grossly crumble them, then add the sausages in the saucepan.
Cook over high flame for a couple of minutes, add an half-glass of red wine. Pour the tomato puree once the wine is evaporated, add salt and cook for about 15 minutes over low flame.
Boil the gnocchetti (a.k.a. Maloreddus) to the tooth in hot salted water, drip and pour them in the saucepan with the sausage's salsa and cook over very low flame for a minute.
Serve the Maloreddus with parmesan cheese or pecorino and a pinch of pepper.
Buon appetito!