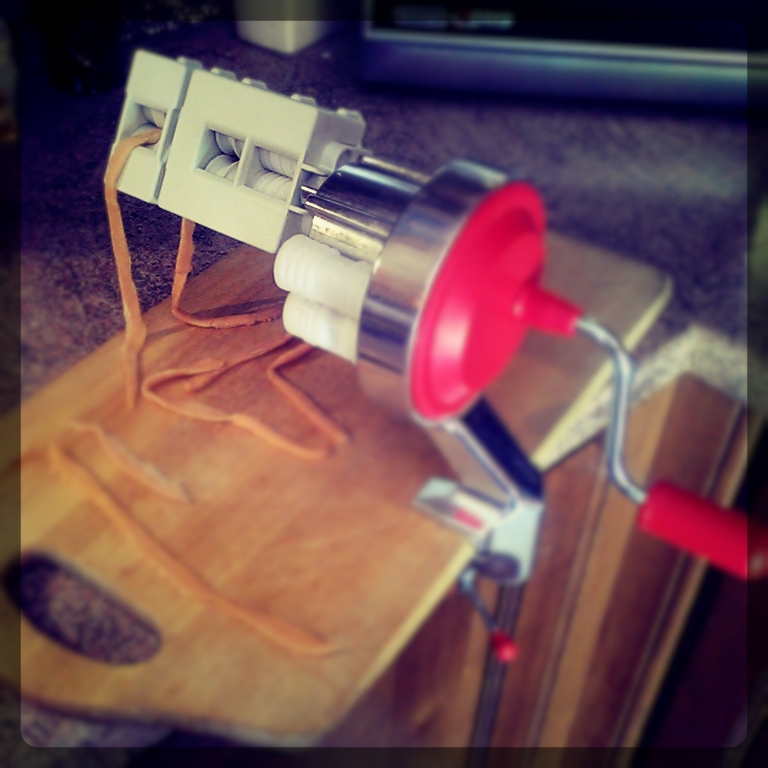 Ingredients:

Pasta:
150 gr. of flour
50 gr. of durum wheat flour
2 eggs
2 tbs of tomato puree
Salt and pepper to taste
Salsa:
3 artichokes
1 carrot
1 stick of celery
1 scallion
50 gr. of taleggio cheese
1 glass of white wine
Fresh parsley to taste
Salt and pepper to taste
Extravirgin olive oil to taste
Here's the link to the amazing recipe made by Willi LaPaglia. You can find his great blog in this site: Cucinare Meglio.
Preparation:
Firstly, we have to prepare the white ragout salsa.
Once you have cleaned the artichokes, preserve the stalks! You can use them to make a great soup or a fantastic risotto – so eliminate the outer leaves, cut in halves the artichokes and remove the tassels.
Boil them for a while with abundant hot water and a few drops of lemon juice. Rinse them with water and ice when they are lightly softened.
Brown celery, carrot and grounded scallion in a saucepan with some olive oil. Then simmer with white wine until reduced, cut the artichokes in medium pieces, add them in the saucepan with some water and let them cook.
In the meanwhile, put the flour on a pastry board, add durum wheat flour, form the classic mound and break the eggs into its centre adding the tomato puree. Season to taste and start to knead for about 10 minutes.
Cover with a linen or cotton cloth and let set for about 15 minutes in your fridge – assemble your BIG MAMA in the meanwhile, are you ready? Let's have some fun!
Spread out the dough with a rolling pin and place the strips of pasta into the first roller on your left, dedicated to tagliatelle. Sprinkle flour over the strips to avoid them to clumps together and run them through the roller while turning the crank. You'll get a mount of perfect tagliatelle. Check your ragout in the meanwhile.
Then boil the tagliatelle in abundant salted water and add a tsp of olive oil.
Cut the taleggio cheese and add it to the ragout, move your boiled tagliatelle and blend them together with all the ingredients of your salsa. Ground the fresh parsley and garnish your dish to have a spring taste.
The perfec idea for your father's day is served!
Buon appetito!