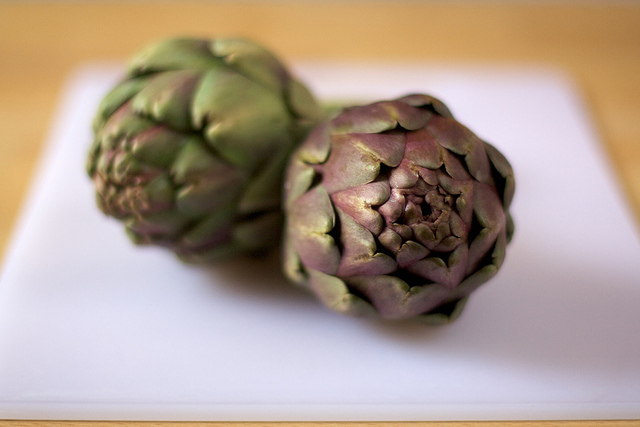 Ingredients:

400 grams of fresh cavatelli 
4 artichokes
Grated zests and the juice of 2 lemons
4 sprigs of parsley
100 ml of vegetable broth
2 cloves of garlic
4 tablespoons of extra virgin olive oil
Salt and freshly ground black pepper 
Preparation:
Clean and rinse artichokes until you have light-coloured, tender hearts. Cut in half, remove the fibrous choke and then cut again into slices. You can also include the first 4-5 cm of the stem to the recipe. Just remove the more leathery outer parts with a potato peeler and cut them into ½ cm thick slices. Soak them in water and lemon juice for about 20 minutes.
Wash and rinse the parsley and chop it up with an herb chopper.
Warm the broth and sauté peeled garlic in a frying pan with oil.
Add the well-drained artichokes and sauté them at high heat for a couple of minutes.
Lower heat; add a ladle of broth, salt, pepper and he chopped parsley. Put a lid on the casserole and continue cooking at medium heat for about 10-15 minutes.
Boil cavatelli in abundant salted water. Once the pasta is cooked, add one half ladle of the water to the condiments in the pan before draining and turn burner back on.
Sauté the drained cavatelli in the pan with condiments at high heat for a few minutes, tossing frequently and add the grated lemon zests.
Serve immediately. Garnish with chopped parsley, freshly ground pepper and a drizzle of raw olive oil.
Bon appétit!