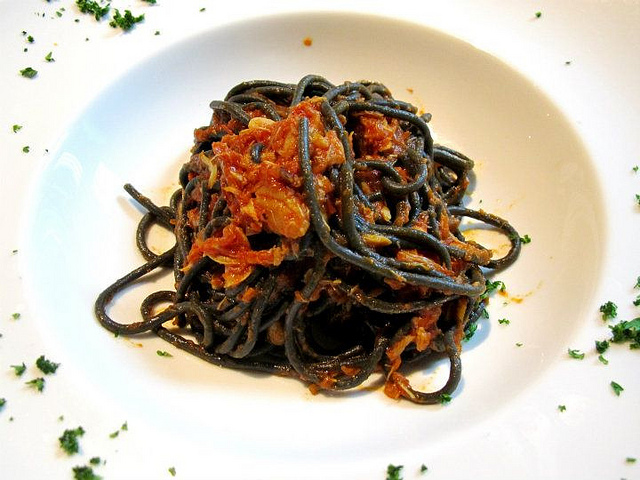 Ingredients:

400 gr. of fresh spaghetti
500 gr. of squid with ink sacks
1 tablespoon of tomato paste
1 white onion
1 clove of garlic
1 sprig of parsley
1 small chilli pepper
1 dl of white wine
Extra virgin olive oil to taste
Salt and pepper to taste

Preparation:
Carefully clean and rinse the squid. Set the ink sacks aside and cut into strips.
Sauté minced onion and garlic in a frying pan with crumbled chilli pepper.
Add the squid and let them flavour at medium heat for a few minutes add wine and let evaporate.
Place the ink sacks into the frying pan along with the tomato paste which has been diluted with ½ glass of water and minced parsley. Cook for about 15 minutes.
Boil spaghetti in abundant salted water. Drain them al dente and toss them into the black ink sauce, adding more minced parsley to garnish. Tasty!
Bon appétit!!