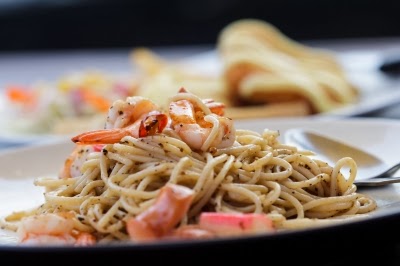 Ingredients:
200 gr. of chickpeas flour
100 gr. of milk protein 
200 gr. of whole wheat
1 teaspoon of salt
5 fresh eggs
4 tbsp of extravirgin olive oil
Abstract: "Mia nonna non sa cucinare.
Proprio non le è mai piaciuto. Non che sia una nonna completamente inutile nel tramandare antiche tradizioni, ma quella della cucina proprio non è mai stata la sua passione.
Il fatto che sia riuscita a bruciare in più di un'occasione la pentola nella quale aveva messo a bollire della semplice acqua vi darà la misura di questa sua avversione insormontabile.
Una cosa però sapeva ( e sa ancora) fare divinamente: la pasta fatta in casa. Vi racconterò un'altra volta quanto mi siano costate certe sue lezioni per imparare a sfogliare la pasta (è una storia divertente), oggi approfitto dei suoi preziosissimi insegnamenti per darvi una ricetta base per la pasta proteica fatta in casa, ce ne sono diverse e tutte ottime."
"Con l'occasione vi presento il mio nuovo alleato in cucina, la macchina per la pasta BigMama di Mammamia Kitchen, appena approdata in casa Le FitChef, permette di realizzare diversi formati di pasta, dai cavatelli agli gnocchetti, fino a spaghetti e tagliatelle. Si monta in un attimo, si pulisce senza difficoltà, ma soprattutto permette di lavorare impasti diversissimi consentendo di preparare numerosi piatti differenti usando ingredienti selezionati e freschissimi. Ed è semplicissima da usare, a prova di maschio single."
DISCOVER THIS GREAT RECIPE BY NOEMI A.K.A. "LE FITCHEF"!
LIKE HER ON FACEBOOK!