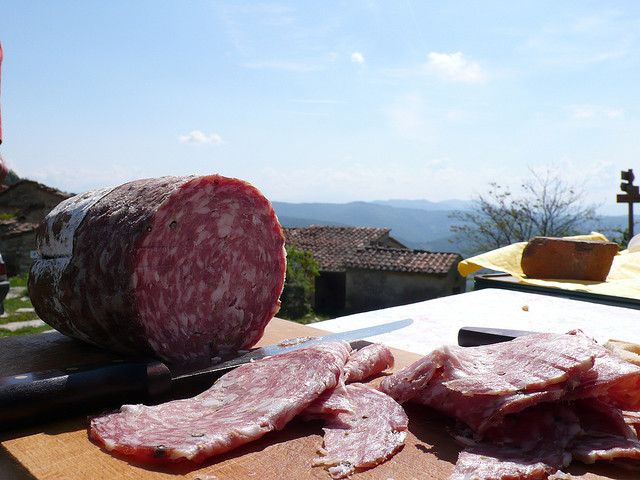 Ingredients:

400 gr. of fresh cavatelli
1 slice of Tuscan finocchiona salame – 1 cm thick
12 cherry tomatoes
2 carrots
1 red pepper
1 yellow pepper
1 shallot
1 twig of fresh thyme
Extra virgin olive oil to taste
Salt and pepper to taste
Preparation:
Clean and rinse vegetables; chop them into small pieces.
Quarter cherry tomatoes and mince shallot. Toss everything into a large frying pan with a drizzle of extra virgin olive oil and sauté for a couple of minutes at high heat. Vegetables should not cook thoroughly. Browning will suffice.
Boil cavatelli in abundant salted water. Drain them al dente and sauté in the frying pan with other ingredients, mixing thoroughly.While cavatelli are cooling, cut finocchiona into 1 cm cubes.
Put the finishing touches on your cavatelli vegetable salad with finocchiona by adding the cubed cold cuts and flavouring with fresh thyme.
The salad is ready, bon appétit!