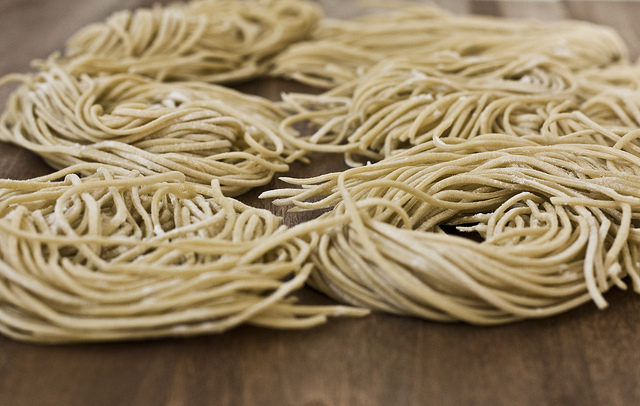 A classic evergreen, a symbol of the italian kitchen!
Spaghetti is one of the symbols of Italy and Italian cuisine around the world. The undisputed protagonist of some of the finest pages of Italian cinema brought to the screen by masters of the calibre of Totò and Alberto Sordi. This pasta is also synonymous with healthy eating and nosh-outs with friends. Initially served with cheese and pepper, it is now accompanied by innumerable types of sauce. A little bit of trivia: did you know that the world's longest spaghetti measures almost 500 metres?
Preparing spaghetti with BIG MAMA:
Once you have chosen and prepared the dough you prefer, split it into blocks and knead it until you have obtained strips of the length you prefer. Flatten and roll with your fingers until you have obtained strips that are 4 mm thick and 3 cm wide.
Place the strips of pasta between the two rollers of the accessory added to the body of the machine, placed on the right side (interior) of the die and run it through while turning the crank. Sprinkle flour on the pasta as soon as it comes out of the machine in order to keep them separated.
One last advice: pasta can be stored in your refrigerator for a couple of days. Cover it with film wrap. If you wish to store it for a longer period, you can let it dry out for a day, place it in a sealed container and then put it back into the refrigerator.
You'll find out how much fun it is to make you very own pasta!
Please, stay tuned with It's all about food! A fresh new recipe with spaghetti is coming!