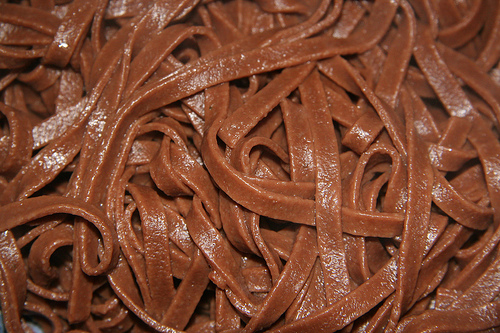 Yesterday we told you about a special cocoa dough and today we want to figure out how to make tons of tagliatelle with BIG MAMA!
A classic dish from the emilian kitchen: tagliatelle!
Tagliatelle – or fettucine – are egg noodles typical of central and northern Italy.
The name is derived from the verb tagliare (to cut) or affettare (to slice) since this variety of pasta was once obtained by extending the dough into a very thin strip and cutting it after having rolled it.
According to a legend told in Bologna, tagliatelle pasta was invented in 1847 by Bologna native master Zefirano. The classic recipe from Italy's Emilia region calls for tagliatelle with Bolognese meat sauce prepared with lean ground pork, veal and beef cooked with bacon and seasonings sautéed in butter and them simmered in broth, red wine and tomato sauce served with a generous sprinkling of parmesan cheese.
A variation of these dish features green tagliatelle: Swiss chard or spinach is added to the dough. Tagliatelle pasta made with nettles has a particularly delicate taste.
We've just prepared brown tagliatelle with cocoa and a great recipe is coming soon…stay tuned!
Preparing tagliatelle with BIG MAMA:
Once you have chosen and prepared the dough you prefer, split it into blocks and knead it until you have obtained strips of the length you prefer. Flatten and roll with your fingers until you have obtained strips that are 4 mm thick and 3 cm wide.
Place the strips of pasta between the two rollers of the accessory added to the body of the machine, placed on the right side (external) of the die and run it through while turning the crank. To avoid that the pasta clumps together, let it stand for a while and sprinkle flour over it.
Nothing could be easier!